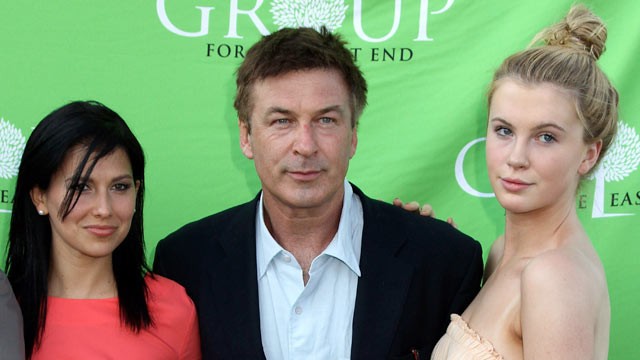 At 60, Arthur Schwartz sees many of his college friends talking about retirement and grandchildren, but he is energetically immersed in the busy lives of his two young daughters, aged 9 and 7.
"I hang out at school with parents in their 30s," he said. "It changes your perspective on life.
This is round two for Schwartz, a New York City lawyer who has adult children from a first marriage and two more with a much younger wife.
However, becoming a father in his 50s, he now enjoys the patience and perspective of maturity.
See Photos of the Oldest Celebrity Dads
"It was different, for sure," Schwartz said about raising his first family, a 25-year-old son and a 22-year-old daughter, when he was in his 30s.
"I didn't spend enough time with the older ones," he said. "I worked until 8 or 9 at night. … I worked one day a weekend and sometimes two."
It's also take two for comic actor Alec Baldwin. Just this week, at 54, the same age as Schwartz when he started a family anew, Baldwin announced to the TV show "Extra" that his 28-year-old wife, Hilaria Baldwin, is expecting their first child.
Schwartz said his reaction to Baldwin's news was, "Good for him, but he better slow down and make time for [the baby] — and don't run for [New York City] mayor."
Baldwin has a 17-year-old daughter, Ireland, with his first wife, Kim Basinger.
He once had a strained relationship with his daughter. In a 2007 voicemail, he famously called Ireland "a rude, thoughtless, little pig."
"Alec Baldwin is getting second chance in life to do it right this time," said Fran Walfish, a Beverly Hills psychotherapist and author of "The Self-Aware Parent."
Other celebrities, like 68-year-old Michael Douglas, have publicly said they made better fathers later in life. His 34-year-old son, Cameron, from a first marriage, has struggled with drug abuse. But today, Douglas reportedly enjoys a close relationship with his children with Catherine Zeta-Jones — Dylan, 12, and Carys, 9.
Men with younger children say it keeps them "feeling young, alive, and mortal," said Walfish. "It is a distorted belief that, unconsciously, is an antidote to fear of dying. Having a younger woman and kids keeps the lid on their anxiety about their demise."
But on the positive side, older men in second marriages often make better parents.
http://abcnews.go.com/Health/alec-baldwin-wife-pregnant-fatherhood-time/story?id=18494143